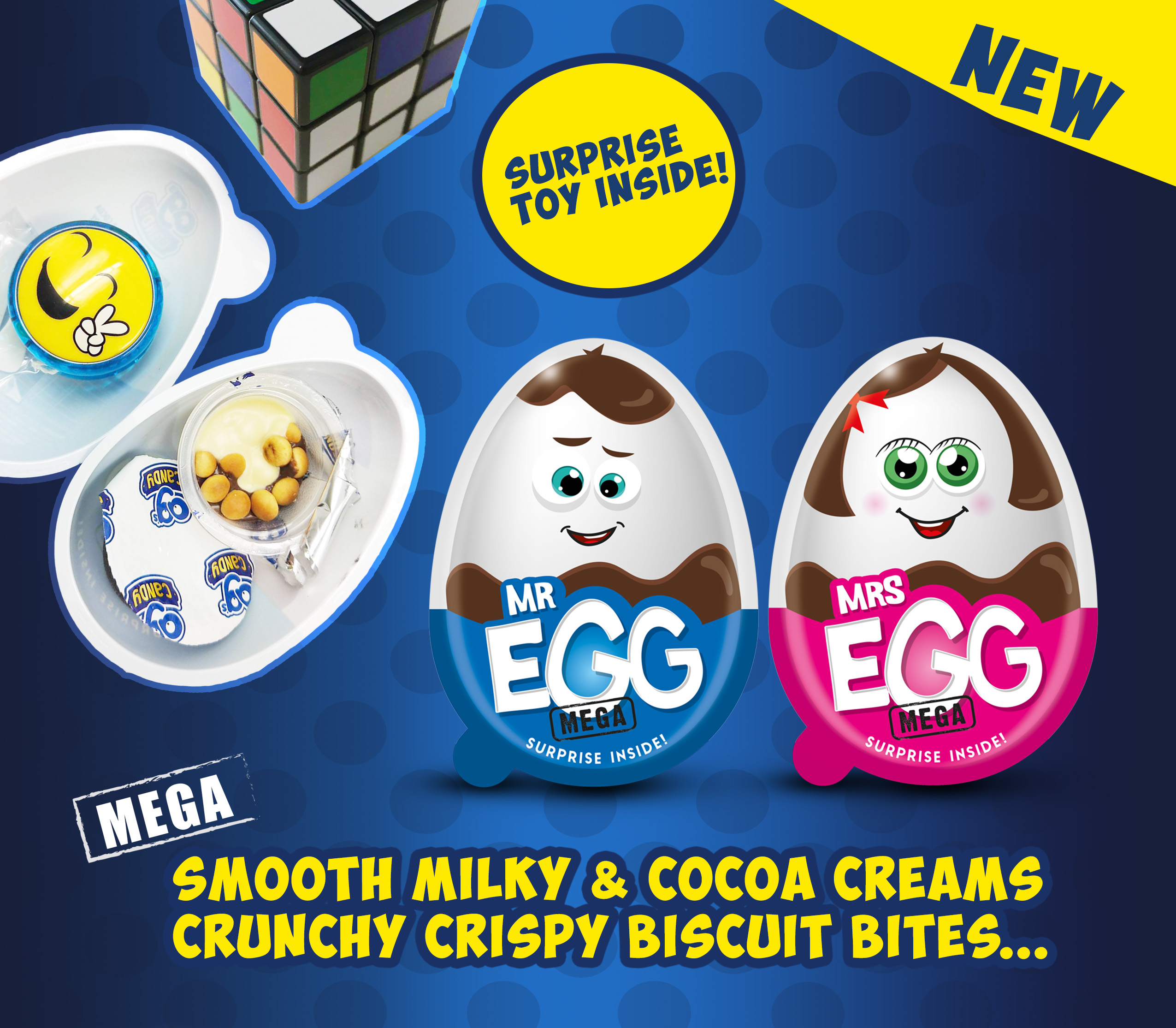 By AGs Candy

3,372
Liverpool, UK based, AG's Candy launches new Mr and Mrs Egg Mega under the Mr & Mrs Egg® range, milky & cocoa cream products, launching for the Easter period, the new Mega Egg will be available all year round alongside the 20g Mr & Mrs Egg® which AGS Candy launched late last year.
Parents & kids in the UK & Ireland now have a new treat at Easter and all year round that they can enjoy with the official arrival of Mr Egg Mega and Mrs Egg Mega. This exciting new product come in egg-shaped plastic packaging that separates, revealing two halves.
One side consists of two individual sealed 20g pots of scrumptious, crispy biscuit bites on milky and cocoa creams that comes with two spoon included. The other side contains a surprise toy for parents and kids to have a fun time with light up yoyos, rubik cubes, doll figurines amongst the other wide range of toys the AGS Candy team of experts work on for children ages three and over.
Walid Al-Garadi, Director of AG's Candy, said: " We are very excited about our Mega Eggs which have bigger treats with bigger toys for kids to play, learn and have fun with.
We have many new exciting products in the pipeline which we are investing in, we are a brand that cares for its customers and we are looking forward to bringing you more quality treats with fun characters and educational interactive material."
Mr Egg® Mega and Mrs Egg® Mega will be sold nationwide in the UK and Ireland at convenience & grocery stores as well as other outlets. For more information about the brand go to our facebook & instagram pages. Watch this space as AG's Candy launches new lines at the IFE (International Food and Drink Event) in London on the 17th of March 2019.
Note to Editors:
● Mr Egg ® Mega and Mrs Egg® Mega are two individual new products and are sold individually.
The launch will be supported by a national sampling campaign as well as communication across various social and digital media platforms through the start of the new year.
● For further information please contact: info@mrandmrsegg.com or call +44 151 208 4673